The third season of Twin Peaks was a gift for the members of Generation X. David Lynch wove the plot on geniously and added new characters to the mix in the same fashion. The proof of what a mastermind he is lies in a character that became of the main ones: the fabulous Tammy Preston, a mysterious FBI agent portrayed by singer/songwriter/actress, Chrysta Bell, who returned to Budapest on November 19, five years after her first appearance in the Hungarian capital.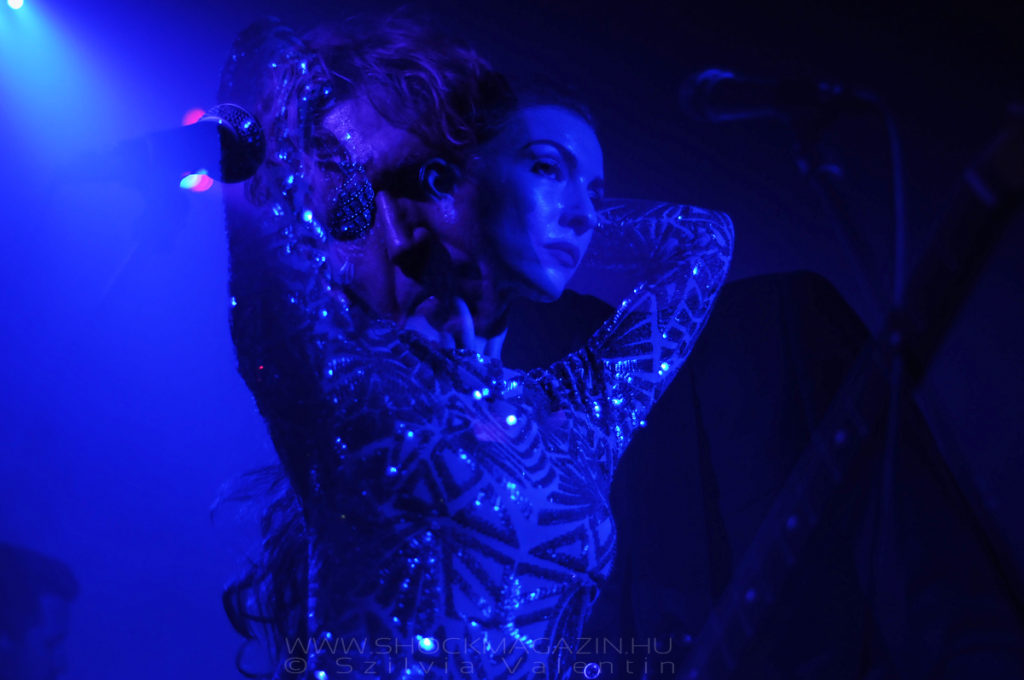 Chrysta Bell and Cole Hanson at Dürer Kert, Budapest (Photo credit: Szilvia Valentin)
27 years ago
"No way, I'm gonna die right here" – I said to my friends after Chrysta Bell appeared on stage a few yards away from me, following an intro that teetered on a line between dream and consciousness and imagination and reality.
27 years. It's mind-blowing to even think about it! We got caught up in the intricate story of the residents of an imaginary small-town in Washington State 27 years ago and forever fell under the spell of its unique and incomparable atmosphere. David Lynch did an outstanding job: our imagination gradually made Twin Peaks real, its mystery became a part of us and then Chrysta Bell conjured us, former outsiders, into characters of the story. Nobody would have thought in 1991 that Laura Palmer would keep her promise and we would meet again a quarter of a century later, and not even Bob, the deranged one, who lives within her would have guessed that there would be someone who would carry on the story – even if only by songs and her performance. For the truly lucky fans of Chrysta Bell (and Tammy Preston, of course), the story of Twin Peaks continued on November 19, 2017, but not on the screen: in real life, at one of Budapest's underground clubs, Dürer Kert.
One and a half hours. That much time was enough for her to wrap us around her fingers by her unexplainable magic. I believe that the majority of the audience came to see Tammy Preston, but I'm sure that next time she comes around they will all show up again because they want to see Chrysta Bell.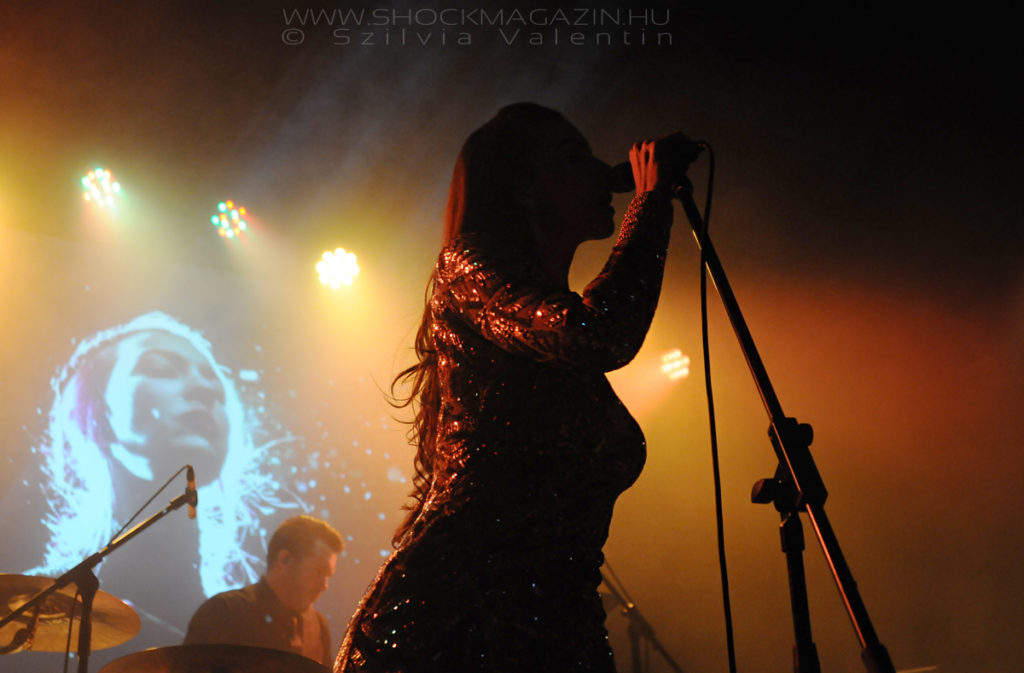 Chrysta Bell and Jayson Altman at Dürer Kert, Budapest (Photo credit: Szilvia Valentin)
Bang Bang Bar, Budapest

The music coming from the speakers before the show reminded us of the unparalleled atmosphere that gives that small Washington town its transcendent, unearthly, foggy and mystical ambiance. They were playing songs like the main theme of Roman Polanski's 1968 mystical horror film, Rosemary's Baby, which movie was filmed in the house outside which John Lennon was shot. Is song choice a coincidence? I don't think so. This Sunday night show was so well built and they paid attention to every detail to such an extent that their concert could only be paralleled to the shows of the Los Angeles based band, Tool.
The curtain on the screen at the back of the stage suddenly opened and after an explosion of distorted and sharp images full of tiny digital tears, two men appeared dressed in black and wearing black sunglasses. They stood on each side of the stage with their arms behind their backs. The sounds got more dramatic and then, David Lynch appeared on the distorted screen to present Chrysta Bell. The men in black took their guitars and the singer-actress danced onto the stage with the same aristocratic moves similar to those in the series.  She was wearing a fabulous, glittering dress and looked stunning. Her moves reminded us of those of a diva, Tammy and a bit of Audrey Horne. That was the moment when the venue turned into the Bang Bang Bar, and Budapest into Twin Peaks.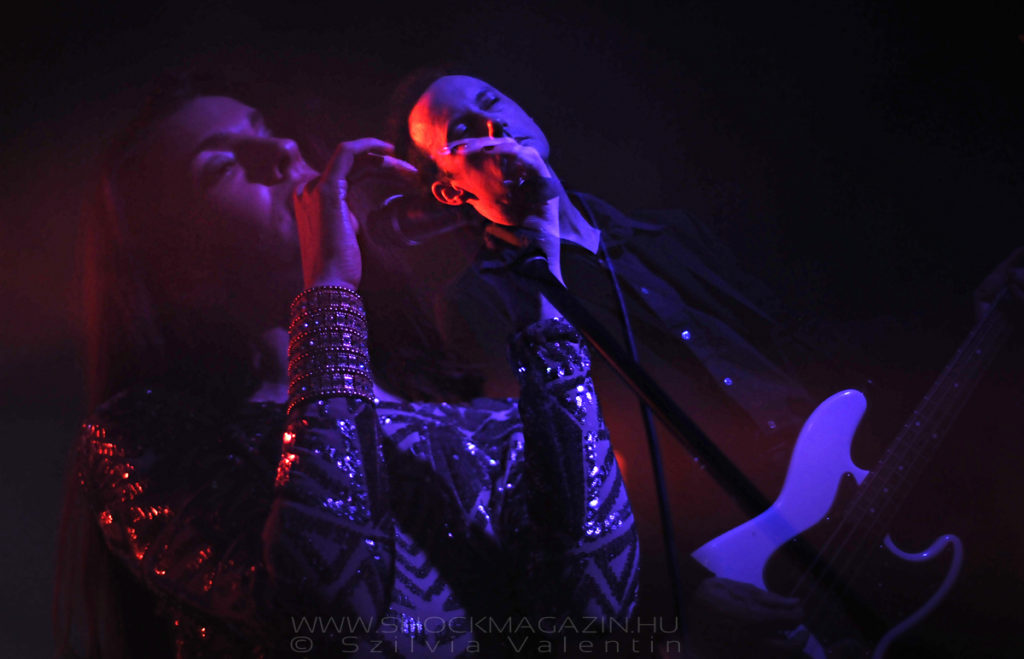 Chrysta Bell és Christopher Smart at Dürer Kert, Budapest (Photo credit: Szilvia Valentin)
The concert
The set started out with three songs (Real Love, Friday Night Fly, This Train) co-written by David Lynch from her 2011 album, This Train. People in the audience were listening to the songs with their eyes closed, gently swinging to the slow music, mesmerized. The following song, Devil Inside Me evoked PJ Harvey with its bluesier sound and more dramatic guitar playing, while Gravity's relative freshness reminded us of the poppier songs off Mark Lanegan's Phantom Radio album. The wonderful Undertow made the whole crowd move (which is uncharacteristic at a night like this), as Chrysta Bell's new single sounded a lot more powerful than on record. One of the highlights of the show came with two Angelo Badalamenti compositions from the soundtrack of Fire Walk With Me: Pink Room and Question in a World of Blue (originally sung by Juliee Cruise), with which Chrysta Bell pushed us onto the black and white crisscross floor of the Black Lodge, and there was no getting back up. Moments beyond description!
Chrysta Bell's musicians, who also hail from Texas – guitarist Cole Hanson from Austin, drummer Jayson Altman from San Antonio, and bassist Christopher Smart, who also served as vocalist – gave a humble and highly focused performance, supporting and accentuating her every move. It was a pleasure to watch Cole really getting into it when performing harder songs like Beautiful or Devil Inside Me off the album, We Dissolve. When I met him after the show and mentioned how great it was to see him enjoy playing the harder, rockier stuff, he laughed and said that coming from the South it's in their blood.
The other highlight of the show was when they played the hit-like Planet Wide, which is a great song in itself but was made even greater when Chrysta Bell changed the lyrics a bit and dropped Budapest's name in it – to ardent ovation, of course. The diva, who sang beautifully, became one with her songs, and used her femininity with elegant ease throughout her performance. She was moving and throwing her hair back theatrically, which probably would have come off as forced and artificial by another performer but she did it ever so naturally and her performance as a singer was enhanced by her skills as an actress.  It wasn't intrusive or coarse, she – as a fellow journalist noted behind me – was behaving as naturally as if she had been in her own bedroom.
The first song of the encore was Do You Love Me, a Nick Cave and the Bad Seeds cover, which again left the audience stunned motionless and for many of us it would take days to process this one and a half hour long extraordinary trip. I had the chance to be at some of the locations where Twin Peaks was shot, but I never felt closer to David Lynch's and Mark Frost's story than on this particular Sunday night in Budapest at Chrysta Bell's concert. After the show Chrysta Bell came to the merch stand and signed her records with angelic kindness and patience, took pictures with anyone who asked her to, smiling honestly the whole time. I have never seen an artist behave so honest and kind. She probably has no idea how many people will cherish this experience forever.
There is no doubt that this concert will remain so unforgettable because as I mentioned above, it did not start that Sunday night but 27 years ago. And it seems that for those of us who went to see the show, it will never end. Chrysta Bell let us one step even closer to Twin Peaks. And maybe that made it even a bit better than concert of the year!
___
Chrysta Bell – We Dissolve European Tour 2017
Venue: Budapest, Dürer Kert
Date: November 19 2017, Sunday

Musicians:
Chrysta Bell – vocal, guitar
Cole Hanson – guitars
Christopher Smart – bass, background vocals
Jayson Altman – drums
Setlist:
1. Real Love
2. Friday Night Fly
3. This Train
4. Devil Inside Me
5. Gravity
6. Undertow
7. Questions in a World of Blue (Angelo Badalamenti/Juliee Curtis)
8. The Pink Room (Angelo Badalamenti)
9. Angel Star
10. Bird of Flames
11. All The Things
12. Planet Wide
13. Monday
14. Beautiful
(encore break)
15. Do You Love Me? (Nick Cave cover)
16. Swing with Me