"I just can't get on with life without constantly listening to music. Something has to be on all day long in my surroundings. I just can't get out of this anymore. Music has such a liberating power, that even existence is impossible without it." Andris Gábor, guitarist of Ozone Mama, on his intimate relationship to music. The most American rock band of Hungary released their latest album 'Cosmos Calling' recently, and Andris not only told us background info about the making of the record, but also stories about his journey through 7 states of the U.S., in a road movie-like fashion. The land of the Cherokees, the Bible Belt, the Deep South. Our in-depth interview.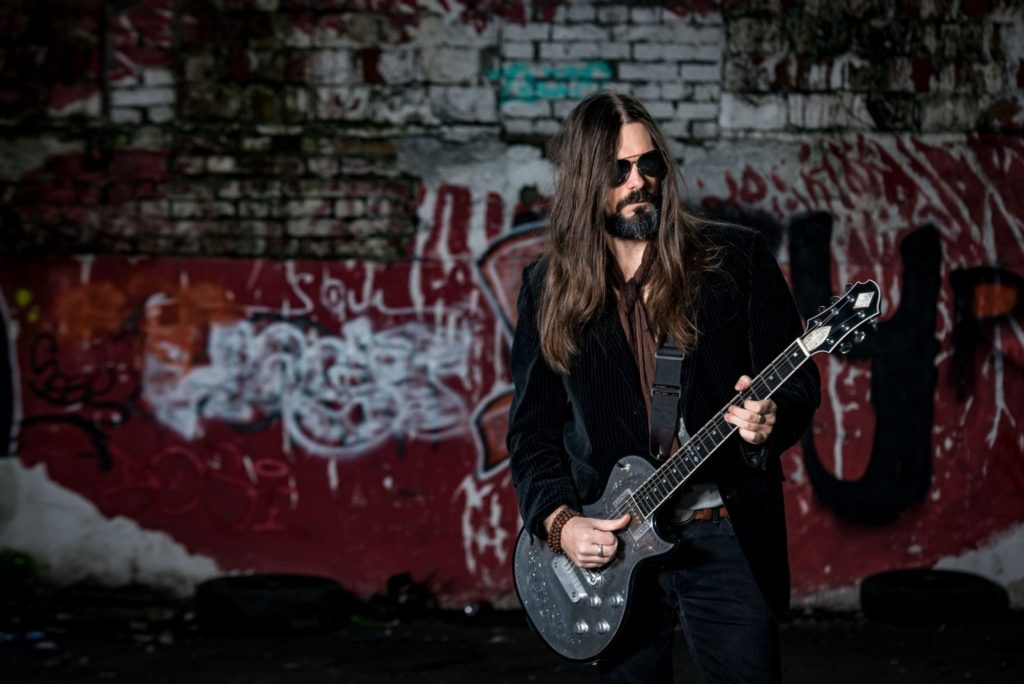 Andris Gábor (Ozone Mama) – Photo credit: Debreczi János Gergely
The American record contract
Who found whom?
One of the A&R's of Ripple Music [A&R – Artist and Repertoire, the position at a record company responsible for finding talents and representing them – PM], Bucky Brown found Sonic Glory on Ozone Mama's Bandcamppage. He wrote a very nice comment about the album. Of course, at the time we didn't know who he was.
How did you find out that it wasn't "just" a regular fan being so fond of the record?
Our manager, Kati Borbola checked who could it be, and it turned out he was an A&R of Ripple. She asked me to message him, and I was like, "Okay, why not? We have nothing to lose". And Bucky kindly answered right away, told us he saw a possibility for cooperation, and would connect us with the CEO of the label, Todd Severin, who is a glaucoma-specialist  by his civilian profession. He is a great guy, in the morning he performs eye surgeries, then goes to the office of the record label in the afternoon, doing what he loves best. Needless to say, he is an incredibly busy person, so he asked for my patience. Eventually, we exchanged letters for more than a year, and managed to reach an agreement. (laughs)
Ripple Music has a good name in the business, but it's more well-known among stoner circles, isn't it?
Ripple Music started out as a family business, and today it is one of the biggest name among stoner/doom metal record companies. At first we were also scratching our heads when we flipped through the roster of the company [the list of a record company's bands is called the roster – PM]. They have Wo Fat and Ape Machine, whom I really like, but these bands play a much harder genre than Ozone Mama. Then we checked out the other bands and found they are also the waist-length hair, boot-cut jeans, tattoos, Orange-amps-in-the-background types. Beastly stoner stuff from the first to the last. We just gulped and asked each other, how could a company like this love a band like ours? Then the album was released and one of the foreign critics started his article with how long he has been waiting for Ripple to come out with a record like this.
Could it play a part in getting the contract that Ozone Mama brought some variation to Ripple's portfolio?
Well, I think they are happy about it, with all the stoner and doom bands in there. We're not sticking out from Ripple's mentality, but from a musical point of view, we're still different from the others. That's why we wrote harder songs for the new album, like 'The Alchemist' or 'Moon Pilot', to make us more compatible with their character.
Do you think you succeeded?
When the record was finished, a business partner of the company wrote us, that he incredibly digs the new material, then Ripple's leader, Todd, sent us another mail saying he also really liked the new songs. He even sent us a link to a video showing a test press of Cosmos Calling spinning on his record player. The song 'Straight On Till Morning Light' was on. He asked if we are from Southern-Hungary. I asked him why? He said: because it sounds so damn Southern! Well – I replied – that's not the way it goes here, for instance I'm a guy from Budapest. (laughs)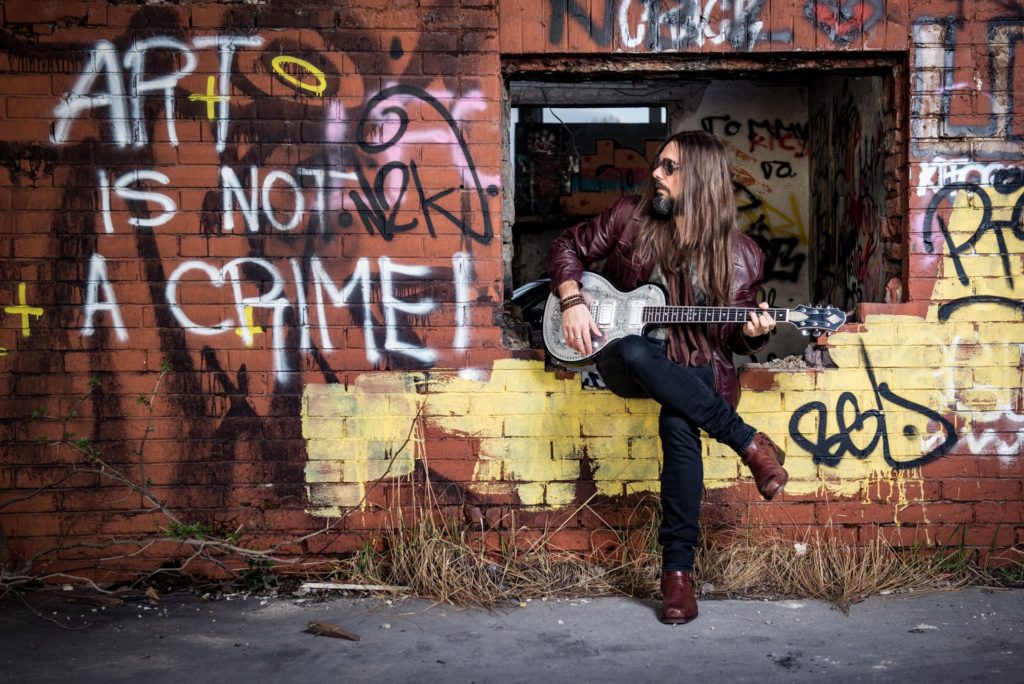 Gábor Andris (Ozone Mama) – Fotó: Debreczi János Gergely
"There's a certain circle I'll never get out of"
Compared to Sonic Glory, how did you start out with Cosmos Calling? Did you have a strong vision about the directions?
We couldn't realize everything we wanted with Sonic Glory due to the shortage of time. At the end we were really in a rush, but at the end it came out great, it even won a Fonogram-Award [the Grammy of Hungary]. We have to keep on being perfectionists, but sometimes also be able to accept what life throws at us, because you might go crazy, but it still won't happen differently. If you run out of money and time when making a record, you have two options: you either finish it and it will be as it is, or it just won't be made. When we received the deadlines from the recording company, we only had a few new songs in our bag.
Were those left off of Sonic Glory, or completely new ideas?
The new songs don't have anything to do with Sonic Glory. Cosmos Calling has a completely different atmosphere. Now we had plenty of time, our record company stood behind us, but we still had some stress because of wanting to live up to expectations. Most people loved our last album, but writing the new material we still felt like we have to raise the bar compared to our previous releases. With the exception of 'Feel So Alive', 'Straight On Till Morning Light' and 'Freedom Fighter', most of the lyrics turned out to be more abstract. Most recently, I started digging even deeper into the music of the '70-s, in the direction of the lesser-known bands, and it probably had an impact on our new songs.
What bands are these?
I could make you a long list, but for example, Three Dog Night, Leaf Hound, Rare Earth, Peter Green's Fleetwood Mac, Czar, Affinity, Granicus, Kak, Blackwater Park, Toad and Fresh Blueberry Pancake. And I also started getting into the more progressive bands of the era. Maybe that's one of the reasons why I wanted to take the new material into a more progressive, darker and a bit more complex direction than Sonic Glory. Our aim, of course, wasn't to be the next Primus or Rush! (laughs) But at the end of the recording process I still felt like something was missing from the picture, so in the last minute, we put another song together.
Which one?
'The Alchemist'. One of our American friends, Sam Presley III wrote the lyrics to it. He is an admin of the global Rival Sons fan club called Rival Sons And Daughters, that's how I got to know him. Sam wrote a song lyrics for us a while back. I've been thinking a lot about how to make a song out of it, but the idea just didn't come. Then, there we were at the finish line with the new album, we were about to go to the studio, and then I pulled his words out of the drawer again. It's a pretty dark theme, a fictional medieval story about an alchemist, trying to find a cure for the plague and save all the people from dying. Then, at the end he dies, so the whole thing is like a movie. I've been noodling with it for a whole Sunday, then I called the rhythm section, Gergő and Máté [bassist Gergely Dobos, and drummer Máté Gulyás – PM], told them we have to rush down to our rehearsal place, we have one more song! They were like, "are you serious, we're in the last minute of the recording process, we don't have time for that!". I didn't even mention it to Marci, he got to know it a bit later.Then some kind of magic started happening right away, because in just a few hours we were ready with it. It's a rare case, and it always turns out in the rehearsal space if the things we thought up at home do work or not.
Looking into the instrumentation, Cosmos Calling is even more colorful than your previous albums. What did you do differently?
We used a lot more background instruments, percussion, tambourines, analog synths, organs, various effects and noises, and all of this gave a greater space to the music. We wanted to make the album more atmospheric, and it really turned out trippier than Sonic Glory. That one was the in-your-face type, a pure rock and roll album, whereas with Cosmos Calling we went into a more psychedelic direction, and the aforementioned instruments had an important role in that for sure.
Speaking of analog synths, when we meet, I always mention how a Monster Magnet orientation would go well with your band's style. In Cosmos, there is a frame of 'Evil Ways' and 'Moon Pilot', where Wyndorfian psychedelia is apparent, but in the rest of the songs, I don't really feel that. Was there any kind of awareness of this in the frame, or did it just turn out that way?
No, it was an entirely subconscious thing. 'Evil Ways' belongs together with the second song, 'Straight On Till Morning Light'. When I invented the riff of that song, I knew that I'm going to dedicate the song to the memory of Gregg Allman. We had the fortune of being there at this very last concert at Laid Back Festival, Atlanta, in the November of 2016. He was headlining the event. He was already very ill, but no one knew at the time that this would be his very last gig. We were back home when we heard that he's cancelling his shows one after another, and then in the spring of 2017 he passed away.
Gregg Allman has always been a big influence on me but interestingly I didn't react in an "Oh my God, one of my idols died, I can't get over it" kind of way, but rather trying to be thankful for the music he gave us and honor the work he has done. So I dedicated this song inspired by him, to his memory. It's my personal tribute to Gregg Allman.
It's a bold deed, starting out a rock album with a memorial song, don't you think?
The reason we started with this one is because it's the most Southern-rock sounding song on it. We wanted the album to progress step-by-step, and when the record is divided into the A and B sides of a vinyl, then the two sides will be in contrast: side A has the more positive, faster songs, and the harder rocking, almost heavy metal, psychedelic and stoner stuff are on side B. Speaking of the frame, it wasn't really a conscious thing, but we left 'Moon Pilot' to the end, because all of us felt that it's the strongest one, so we shouldn't launch it at the middle or the beginning of the album.
One of the American sites wrote, that 'Moon Pilot' has some Soundgarden atmosphere in it.
Well, I'm not surprised by that, since Ozone Mama's singer is called Marci Székely. (laughs)
I don't think it's just that, at least 'Pt 2. The Void' (the second part of the song) reminded me of Rusty Cage's dynamism.
I have more of a Monster Magnet feel from it. It's characteristic of Dave Wyndorf and the band's early material, that a mid-tempo or slower song speeds up at the end. Like in 'Face Down' on Superjudge. That said, if Soundgarden fans discover the influence of the Seattle-band in there, it's only a good thing, I really like their early, raw stuff like Badmotorfinger. But if we are talking about alternative American music, I'm a bigger fan of Stone Temple Pilots. And if we're considering the relationship of grunge and Ozone Mama, I think there is a little bit of a Screaming Trees atmosphere on Sonic Glory. Maybe on our first two releases, The Starship Has Landed and Freedom EP more of these grunge influences can be found, but Cosmos Calling leans more into a '70s Americana – Southern Rock – Space Rock direction. The album was deliberately mixed and mastered to have a vintage sound.
In all of your release's titles there's a strong reference to science-fiction. Is this a conscious effort on your part?
It's a concept. I gave up smoking pot a long time ago, but I still love those trippy space-rock things. I'm legally high on these kinds of music! (laughs) By the way, Marci and me are huge sci-fi consumers. We both read Philip K. Dick, Isaac Asimov,  and most recently we became big fans of the new Blade Runner movie. We've been discussing it just in these days how great the sequel turned out to be. I have a great story about that by the way. Ed Mundell, former guitarist of Monster Magnet lived here in Budapest for a while. He was at Dave Wyndorf's side between 1992 and 2010, his solos can be heard on all of the Monster Magnet albums from Superjudge to Mastermind. We made friends with him and his wife, and went to have lunch and dinner together several times during the year they spent here in Budapest. Ed's wife, Karen, enjoys a great film career, she is an adorable woman. She worked in the Etyek Studios here as the visual effects producer of Blade Runner 2049. So because of this, I have a personal relation to that movie. And recently, I started listening to more and more prog-rock albums. It was a bit of an unknown territory for me, earlier I hadn't been a daily listener of Yes or Rush. I started to dig into the music of these bands, and found some seriously awesome stuff.
Like what?​
There's a lot of '70s progressive music that uses the Mellotron, and we also love using it in ours [the Mellotron is a special keyboard instrument that uses tape-recorded samples to voice strings, choirs, recorder, cello and other instruments]. You can even get some truly horror movie-like sounds from it.
Brendan O'Brien also used Mellotron on Pearl Jam's Vs in the song 'W.M.A.', and Stone Gossard used it in 'Bugs' on Vitalogy. And then there's Mark Lanegan's'No Easy Action' bringing the melodic lead with a Mellotron. Just to put some more Seattle-related references to the interview.
What's more, on Screaming Trees' Dust album you can also hear the instrument in the songs 'Traveler' and 'All I Know' handled by Benmont Tench, one of the founding members of Tom Petty and the Heartbreakers. So yeah, Mellotron can be heard on many sci-fi soundtracks, it's also there on most progressive rock albums, and even in The Beatles' 'Strawberry Fields Forever'. And we also packed the album full of it, it's in the background on many of the songs. There's a lot more keyboards in the songs now than ever before, despite the fact it seemed a little scary for our rhythm section at first. (laughs) To evoke the musical world of the '70s, the songs of Cosmos Calling demanded the use of those beloved screaming Hammond organ sounds and spooky Wurlitzer pianos, as you can hear in the bridge section of 'Evil Ways'. It's there on Monster Magnet's albums as well. The songs get a special atmosphere because of them, and it also worked well for us.
Which one is your favourite song from the album at the moment?
I really like 'Straight On Till Morning Light', 'Moon Pilot' and 'Feel So Alive'. I don't ever want to repeat myself, but I know that there is a certain circle I just can't get out of. If someone would ask me to write an extreme metal record or a jazz album, I don't have the slightest idea how I would start out with that. I'm not familiar with these genres. This is the music I can make, because it's what I'm living in. And if I can't break out of this on the level of the songs, at least I want to show something new in every song.
"We heard gunshots and a bit later a police helicopter appeared in the sky."
You get your inspiration not only from Budapest, but you visited the United States several times, stayed in those motels, went to those typical Southern pubs where the locals play traditional blues songs, and experienced first hand what you've already been channeling through your music. Do you think it's possible that these experiences, either directly or indirectly, made their way into the songs of Cosmos Calling?
I'm sure all of this is in there. If you go to America, rent a car, you have to drive long-long distances to get from one place to the other. Especially if you can save your money for it, have enough time – at least three or four weeks – and you really want to see a lot, not just to have a holiday staying at one place. The latter one you can also do at Lake Balaton (Hungary) or in Croatia for example. There's something in the air in America, it has that road movie feel to it. You jump into a car, tune into one of the many rock stations on the stereo, head out on the highway in those beautiful landscapes, while The Eagles, Bruce Springsteen, and Lynyrd Skynyrd comes from the speakers. Southern rock, country rock, blues rock. These are the music of the people there! The country music of Nashville, jazz of New Orleans, blues in Clarksdale, and the music of the mountain-areas of the Appalachian states, which is mainly gospel and bluegrass. You hear rock music even in the fanciest restaurants, up North in Maine, where they order lobsters and stuff. You don't really hear electronic music anywhere. America really touches the person, and even more so if you have that attitude and love this kind of music. If you like the relating literature, films, landscapes and the idea of freedom. I'm not trying to rave about America, but if someone is interested in the music, and has an opportunity, it's a place you have to see!
If all my information is correct, this was your third trip there already, but this was the one you submerged the most into the everyday life of the South. Where have you been to exactly?
Informally, they call the Southern states the "Bible Belt", and from a cultural and geographical point of view, it's the so-called "Deep South". These are the states where the weather is still warm in the fall, and this kind of music is still present there to this day. We've been to seven states: started out from Florida, then came Alabama, North Carolina, South Carolina, Tennessee, Georgia, and finally Mississippi. The latter one is an especially calm place. It's a delta region, so even the grass is greener, and the sky is a different kind of blue, it's just gorgeous! These are deeply religious parts of the country. For example, in Alabama you can buy a Bible even at gas stations. Religion and musicality are in the air, but so is the redneck culture. The kind of fellas you see in movies: big beards and truck driver caps, with such thick accents, you don't understand a word they're saying. (laughs)
Thinking about the Southern states, for me it's not calmness that comes to mind, but rather those 21st Century cowboys and the traditionally quickly escalating quarrels and fistfights.
This part of America has a certain charm to it, but at the same time it can be dangerous. It really feels like being in a movie. Once we went to a concert in Memphis. All of a sudden we heard gunshots, and a bit later a police helicopter appeared in the sky. Someone got shot a few hundred feet away from us. Another time, when we were in North Carolina, visiting the land of the Cherokees in an Indian reservation, that was pretty odd too. You go into the mountains, and descend into a misty valley. You see all these gorgeous rust-colored autumn leaves, the forest is as dense as it gets. Then you reach Cherokee-land, and what's there, waiting for you? A damn casino! Now that was one I just couldn't get over. You're going into this wild scenery, and the "American dream" still comes your way. When you're travelling on Indian land, you just don't see this coming! (laughs)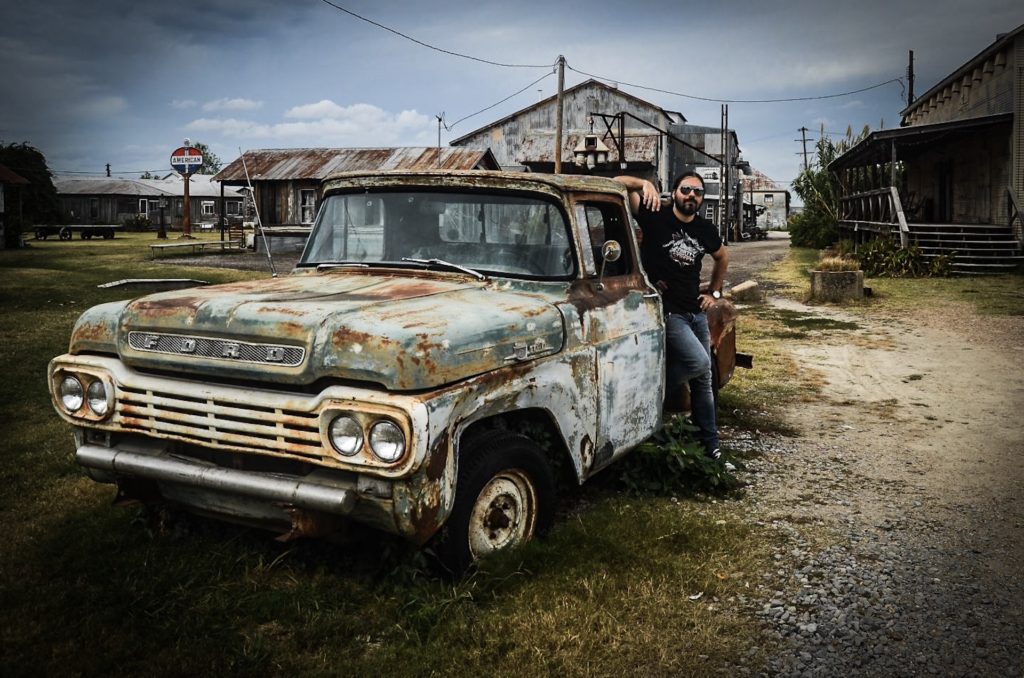 "This photo is from Clarksdale, next to the cottonfield, where the slave quarters have been converted to motel rooms." (Photo: Katalin Borbola)
I'm sure that without all these experiences, you wouldn't have written a song like 'Evil Ways' for example.
Yeah, and that one was born when I was sitting alone in the studio with the sound engineer, I had some idea in my head, but I didn't really know what would come out of it. It's all the result of an improvisational session. It wasn't written down. You can say that the idea turned into a song right there. There is an improvised guitar line in it, which is really hard to play, but I kept on pushing my boundaries until it sounded exactly the way I heard it in my head. I recorded all the instruments for the song except the bass drum, and I also sang the chanting gospel-like vocal line, which is later repeated in a slightly different form in 'Straight On Till Morning Light', sung by Marci.
Do you think that Cosmos Calling could be an important milestone in the life of the band?
Absolutely, and it's hard to predict what a record company could offer, but it's already a great thing that the new album can get to a larger audience, and received a lot of positive opinions and much love since it was released. Up to this point, we were just making our records, whoever likes it listens to it, it's all cool with us. A little less people here at home, but more abroad. There's more people in other countries who love this kind of music. This is a thing we all know. There's nothing wrong with that. Maybe it's just a geography thing we're talking about. This is what we chose to do with our lives. The National Cultural Fund of Hungary supported the making of our album for the second time now, as they did our international tour in 2017. We are grateful to them for all of these. We achieved things we couldn't before.
You listen to tons of music, and you're always able to surprise me with an old band yet unknown to me. What is the driving force that makes you constantly search for these hidden treasures? 
I just can't live my life without listening to music all the time. You can always run into a band or album you didn't know before, to which you don't go "I heard this a thousand times already..", but rather "Oh my God, where has this been hiding all my life??". I'm still digging for the lesser known bands of the '70-s and I always find new ones. Maybe I couldn't even play the guitar and write songs if this music wouldn't be present in my life at all times, maybe I wouldn't get my inspirations. Something has to be on all day long around me. This is not a hobby anymore. It has become a fundamental part of my life. Even if I'm not a "professional" musician at this point – but I keep working on it to become one – and don't make a living out of music yet, I just can't get out of this music addiction anymore. Music has such a liberating power, and you know this well, that even existence is impossible without it.
___
(English translation: Bence Borbás)